Top 11 WordPress Advertising Plugins
Top 11 WordPress Advertising Plugins
When you take a look at all of the WordPress advertising plugins that are out there, it can get pretty overwhelming to figure out just where to start and where you should turn for advice. Unfortunately, not all WordPress advertising plugins were created equal, so you have your work cut out for you when it comes to finding the right one. But just because it can be hard to find the right WordPress advertising plugin doesn't mean it has to be. By weeding out some of the better ones from the rest, you'll be able to see just how convenient and effective some of these WordPress advertising plugins can be.
It doesn't have to be hard to find the right WordPress advertising plugin, and that's why we put this handy guide together. We want you to be able to count on our guide as a resource to get you on your way towards getting the work you need to do done. We are something like a big brother guiding you towards your next plugin, giving you advice and steering you towards the best WordPress advertising plugins wherever they may be. One of our prime beliefs is that it takes the best plugins to deliver the best websites, and that's why you shouldn't settle for less. Presenting a review guide like this is sometimes the only way to get a clear view of the situation. So let's go ahead and get started with our review guide and find out which of these plugins is the best among the rest.
This WordPress advertising plugin is ubiquitous and well known for a reason. It's Google's flagship advertising plugin and it's been optimized to deliver a good experience for you. It has over 100,000 active installs, which shows just how well liked and popular this plugin is. It's been tested up to WordPress 4.5.7, so you should have no problem installing it on the website of your choice.
This WordPress advertising plugin was last updated 12 months ago, so it's been fairly recent that the last update was applied. This WordPress advertising plugin works with automated mobile ads to make your advertising experience that much easier. With the whole experience automated, you'll have one less thing to worry about when you're mounting an advertising campaign. There's also a proprietary ad manager built into the system to provide a way for you to manage all of your ads in a way that is simple and effective for you. Google AdSense was built around the concept of simplifying the way that you advertise, and it does this by stripping away all of the inefficient trappings of most WordPress advertising plugins and instead focusing on making the core experience better.
| | |
| --- | --- |
| PROs | CONs |
| The interface for dropping ads is basic. | It's being deprecated, so you'll soon lose access to some functionality. |
| You can figure out which ad placement works the best. | When trying to adjust settings for ads, it doesn't show options. |
| Allows you to add and delete ads on every page. | It keeps looping the verify process. |
Believe it or not, this WordPress advertising plugin is rated higher than Google AdSense. Perhaps part of that is due to the fact that there are regular updates being made to this software based on user feedback. In fact, as of this writing, the last update was just about a week ago. It has 50,000 active installs and has been tested up to WordPress 4.7.3. This WordPress advertising plugin features an easy to use dashboard interface that allows you to drop advertising banners nearly anywhere on your site that you could possibly want.
Because of this easy to use dashboard, you have the choice between handling your site's code or not. For those intrepid code adventurers who like to get their hands dirty, you have that option. But for those who would rather have a simple, easy to use interface, you have that choice now too. You can create your own ads using HTML or Javascript code, or you can use your service of choice to deliver that same exact functionality. You can manage all of your advertising campaigns in an easy way, right from your proprietary dashboard. You can also see just how many impressions your ads have.
| | |
| --- | --- |
| PROs | CONs |
| Easy to use dashboard simplifies the process. | Pro version still comes with ads. |
| Great features for free version, and paid version gives you more complex features. | There's a gap between impression statistics in the plugin and in reality. |
| A quick and easy install gets you up and running quickly. | Functions are greatly limited in the free version to get you to buy the pro version. |
This WordPress advertising plugin features a solid five star rating, and it was last updated two weeks ago which shows just how invested in the plugin the developers are. This five star rating is the most telling that this plugin features compelling content that is useful for its users. It has more than 50,000 active installs and is compatible with WordPress 4.7.3, which means that users don't have to worry about functionality with their system. This is version 2.1.4 of the WordPress advertising plugin, so there's still an active presence with this plugin that's being demonstrated.
This simple WordPress advertising plugin is useful for inserting any code or ad into WordPress. It can be used with Amazon ads or AdSense ads, so the options are pretty wide open for users. This WordPress advertising plugin touts the fact that you can insert anything absolutely anywhere on the page. This sort of functionality is a godsend for users who are looking for a more open system where their options are fairly wide open instead of closed off. It features a syntax highlighting editor, 16 code blocks, automatic insertion, and a code preview complete with a visual CSS editor.
| | |
| --- | --- |
| PROs | CONs |
| Support team has been known to solve issues within an hour. | Even using manual shortcodes there are issues with getting this plugin to work. |
| Isn't for ads only, but can be used for any code. | Ads from webmedia.com can be placed in place of your own ads. |
| You can place ads at will with minimal knowledge of code. | Use on Internet Explorer is limited compared to other browsers. |
This plugin has a three and a half star rating, so there is a little room for improvement. Perhaps part of the reason for that rating is the fact that the last update was seven months ago. It does have more than 30,000 active installs and it's compatible with WordPress 4.6.4, which means that it's going to be compatible with most users' setups, but not all. This WordPress advertising plugin provides an easy way to generate revenue using Google AdSense. It has a full set of dynamic features that allow you as the user to have the greatest level of functionality possible. It will give you a comprehensive solution for everything that's related to Google AdSense.
Easy Plugin for AdSense does follow the procedure that Google AdSense has laid out of not supporting more than three adsense blocks per page. There are also sidebar widgets available in Easy Plugin for AdSense. These can be used for search purposes for customized titles or images, and also for content that has a custom title. Either way, there are features for you to use that will help you to gain a better sense of how the advertising campaign on your site is running.
| | |
| --- | --- |
| PROs | CONs |
| Support will work nights just to solve problems in a timely fashion. | Widgets sometimes remain on the site after uninstall. |
| Ease of use and control of ad placement are both superb. | Needs ads box for web and mobile web users. |
| Allows you to customize AdSense in a set and forget fashion. | After a recent update, it stopped placing ads on some sites. |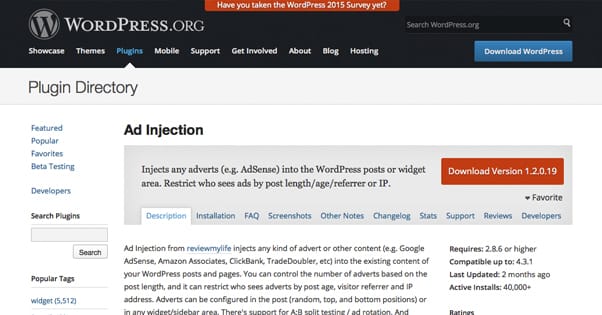 This WordPress advertising plugin has a whopping four stars on its review page. It has more than 30,000 active installs. The only hang up with this plugin is that the last update was two years ago. It's been tested to work with WordPress 4.3.9, so it'll work for just about any type of WordPress that you are running. The way this works is to literally inject ads into your content in much the same way that you would expect it to. You'll be able to control the number of ads based entirely on the length of your post, and you can also restrict it based on any number of things such as the age of the post and by IP address.
Ads in the page can be completely configured in the post based on bottom, top, or random positioning. They can also be placed in the widget or sidebar area. This is a more advanced plugin for users to explore, and so users who are looking for a simple plugin would be better off looking elsewhere. But for those who want a dynamic, personalized user experience, this just might be the WordPress advertising plugin for you.
| | |
| --- | --- |
| PROs | CONs |
| Just shows the ads instead of extra styling. | No updates or support in two years. |
| Works well for rotation while using cache. | It won't save when adding a new widget. |
| Is especially good at preventing hacking. | Is no longer compatible with Supercache plugin. |
The great news about going with this plugin is that it has a solid five stars. What's more, the last update as of this writing was only one week ago. It has more than 30,000 active installs and has been tested up to WordPress 4.7.3, meaning that it's up to date with the latest WordPress version. This is a free plugin which will add to the positives for many users. There will always be those who seek out a pro version, expecting it to have more features, but almost all of those features have been built into this version. The pro version comes with more.
This plugin is meant to be an improvement to the WordPress advertising plugin Quick Adsense, and this has been used on more than 100,000 sites in total. This kind of trustworthiness is not found across the board regardless of type of plugin. This is something that's considered to be rare and hard to find. It's coded very well and it has no overhead, which is another major boost for prospective users. It's been used on large sites that have millions of monthly page impressions. It's a useful WordPress advertising plugin that can be used for any number of potential solutions.
| | |
| --- | --- |
| PROs | CONs |
| Actively developed and receives regular updates. | 503 security errors are wont to pop up. |
| Simplifies the placement of ads without coding. | Widget says no code even after saving data. |
| Imports Quick AdSense settings directly. | Used to be able to use responsive ads with free version, now cannot. |
This WordPress advertising plugin has a solid five-star rating, with the last update being posted just three weeks ago. It has upwards of 30,000 active installs and has been tested up to WordPress 4.7.3, the latest version of WordPress. This WordPress advertising plugin was made by publishers for publishers.
It delivers millions of ads per month and is a lightweight design that's still going to pack a major punch. This will allow you to insert and manage banners but also will allow you to optimize and test them also. It's this sort of freedom that opens up possibilities for the budding advertiser.
| | |
| --- | --- |
| PROs | CONs |
| Full edit view offers simple solutions. | Has problem with banners disappearing from pages. |
| Step-by-step sequence makes setting up easy. | Every banner will create a site indexed by Google, not good for SEO. |
| Included documentation answers questions well. | Configuration process can be confusing. |
This WordPress advertising plugin has a respectable four star rating, and it has over 30,000 active installs. However, its last update was a good six months ago, so those who are looking for a current WordPress advertising plugin would do best to look elsewhere. It's only been tested up to WordPress 3.7.19, so it's not completely up to date with WordPress.
This is a WordPress advertising plugin that allows you to sell contextual ads straight from your pages in an automatic way and then receive compensation via PayPal. To get started with it, you need to sign up for a MageNet key, which is a relatively simple process.
| | |
| --- | --- |
| PROs | CONs |
| Takes only two steps: adding your site and installing the plugin. | Can activate Google's manual penalty. |
| No manual integration involved. | Issues with incompatibility with WordPress. |
| The ads have a natural appearance. | Large number of separate errors have been reported. |
This WordPress advertising plugin has a rating of four and a half stars. Its last update was three months ago, so about in the intermediate range of updates. It has more than 20,000 active installs and is compatible with WordPress version 4.7.3, bringing it completely up to date with WordPress.
By using this plugin you can create a truly unlimited amount of ads via your widget. It comes with many smart options to customize your ads directly to service your needs. You can choose your own customized size or select from predetermined sizes. Also, you can randomize the order of your ads and slide and rotate ads.
| | |
| --- | --- |
| PROs | CONs |
| Simple to use ad rotator makes crafting ads easier. | Lacks the nofollow attribute for ad links. |
| Allows display ads to be rotated like a slider. | Doesn't incorporate an add image button. |
| Updated frequently with a support staff that's responsive. | Widget defaults to one column instead of two. |
The name of the game with this WordPress advertising plugin is accessibility. It has a four star rating with over 10,000 active installs. The last update was two months ago, so the team regularly keeps updating the WordPress advertising plugin. This version of the Infolinks plugin was tested up to WordPress version 4.7.3.
Infolinks boasts itself as being the third largest online ad network on the globe, and they service more than 150,000 publishers in over 128 countries worldwide. This WordPress advertising plugin has been touted as a way to easily and quickly improve revenue, and they do this in a relatively simple series of steps.
| | |
| --- | --- |
| PROs | CONs |
| Latest version is most compatible with users and their sites. | The showing of ads can suddenly stop working. |
| Makes it so you don't have to manually enter the integration script. | Support staff is often unresponsive. |
| Rated highly and regularly updated. | Deactivates searching magnifying glass in top right with search box in bottom left. |
This WordPress advertising plugin only has a three star rating, but as of this writing it was only updated less than 24 hours ago. It was tested to work with up to WordPress 4.7.3, and it has more than 10,000 active installs.
Content.ad is billed as a platform for content recommendation that can help site owners generate more ad revenue in a simple and highly unobtrusive way. Content.ad can rightly claim that they serve billions and billions of impressions over thousands and thousands of sites each and every month. It features a simple setup and improved styling.
| | |
| --- | --- |
| PROs | CONs |
| Quick and simple setup is helpful for fast implementation | Before recent update, updates were few and far between. |
| You can place the ads either after the post, in a widget, or anywhere else you want with a shortcode. | Plugin developers don't approve everyone to be let in. |
| Improved styling allows for attractive designs to be implemented. | Isn't fast with support help. |
Conclusion
There are many WordPress advertising plugins to choose from out there, and many of them have the sort of functionality that you'd be looking for and expecting in a plugin. Where they differ is in small details that would be difficult to tease out ordinarily. We've seen that there is a variety of different ratings and coverage options available for each of the plugins. All it takes is for you to make the right choice for you.
Actives
Reviews
Unique Features
Pricing Range
#1 Google AdSense
100,000+
⭐⭐

Three ads per page feature.
Matched content placement.
Ad display on landing page.

Free
#2 AdRotate
50,000+
⭐⭐⭐⭐

Can migrate data from other plugins.
Incorporates DFP, AdSense, and Chitika.
Ad creation with basic code.

Free-$36.00
#3 Ad Inserter
50,000+
⭐⭐⭐⭐⭐

16 code blocks.
Syntax highlighting editor.
Code preview with visual CSS editor.

Free-$100
#4 Easy Plugin for AdSense
30,000+
⭐⭐⭐

Also uses three ads per page feature.
Provides sidebar widgets.
Control positioning and display of AdSense

Free-$18
#5 Ad Injection
30,000+
⭐⭐⭐⭐

Set position of top and bottom ad.
Full position setting of random ads.
Add page age settings to status.

Free
#6 AdSense Plugin WP QUADS
40,000+
⭐⭐⭐⭐⭐

Full AMP support.
Mobile optimized and responsive AdSense ads.
Ad disable feature.

Free
#7 Advanced Ads
30,000+
⭐⭐⭐⭐⭐

Easy banner creation.
Group ads for ad rotation.
Date setting for publishing ad.

Free-$123
#8 Website Monetization by MageNet
30,000+
⭐⭐⭐⭐

Hassle free interface.
Regular payout system.
Full control over layout.

Free
#9 Meks Easy Ads Widget
20,000+
⭐⭐⭐⭐

Unlimited ad creation.
Predefined sizes or custom size.
Randomize ads order.

Free
#10 Infolinks Official Plugin
10,000+
⭐⭐⭐⭐

InFrame banner ad solution.
InFold search and display feature.
InTag keyword display solution.

Free
#11 Content.ad
10,000+
⭐⭐⭐

Simple setup feature.
Flexible styling of ad space.
Performance driven algorithms.

Free