Top 12 WordPress Editor Plugins
When it comes to WordPress editor plugins, there are a lot of things that go into getting the right one and making sure that you've selected one that will be able to do the job you need it to do. Not all WordPress editor plugins were created equal, of course, so you'll have to use your best judgment to decide which one will be right for you. Maybe you're a complete newcomer to WordPress editor plugins, or perhaps you know some things about them but not everything. Whatever your level of expertise, there are things you can do to increase your knowledge.
There are a lot of things that go into deciding what the best WordPress editor plugins are. You have to factor in things like overall functionality, design, graphics, and ease of use. There are so many things that go into each that we want to state once again that all of the WordPress editor plugins that are on this list have excellent functionality and would be a smart addition to your overall web strategy. However, we have to break these products down into a list-based format, and doing so makes some look better than others.
One of the things that makes this tiny widget so effective is that it adds a new visual editor that allows you to change and select different aspects of the field of view. This lets you add rich text and media to your posts. It's easy to see that the default WordPress widget makes it so you have to know a thing or two about HTML. You don't have to worry about these things with this widget.
With this widget, you can fully switch between visual mode and HTML mode. You can go ahead and put in media from your WordPress media library. Luckily, it does support full screen editing mode. There's also support for the accessibility of widgets overall. You can edit your widgets still by using the native editor that you've been using, so there's no lack of functionality there. With this WordPress editor plugin, you can have linkbacks to everything just as you would in a typical setting.
| | |
| --- | --- |
| PROs | CONs |
| Support for fullscreen editing. | Large gap between content and widget title. |
| Support for multiple languages. | Requires 3.1 or higher. |
| Can edit rich text widgets via the visual editor. | No extra composer controls appear. |
This is a WordPress editor plugin built around speed and reliability. It's built to take the existing WordPress functionality and replace it with something stronger, faster, and a little bit stabler to give its users a steady, reliable experience. It integrates with FancyBox and CodeMirror to do what it does, and it does this by creating what can be seen as an environment that's rich in features. The file editing function is totally changed in this version, which is something that you should be made aware of.
This WordPress editor plugin uses Active Line Highlighting in its setup. It also has line wrapping and line numbers so that you can keep track of your lines and what's going on with them. There are eight themes for the editing of information, and all of them include syntax highlighting.
| | |
| --- | --- |
| PROs | CONs |
| Supports code highlighting. | BR tag is stripped. |
| Works for posts/pages as well as themes. | Doesn't properly highlight syntax. |
| Good for code coloring and line numbers. | Doesn't support WordPress 4.6.1. |
This WordPress editor plugin was built to be connective and integrative. It allows for the integration of plugins, themes, and source code editors. There are many different types of code that you can use with this editor plugin. Even if you only have access to a browser, you can still edit your material. You'd do this by turning on syntax highlighting in the main menu of the WordPress editor plugin.
This WordPress plugin editor allows you to integrate or highlight between the various different syntax languages. It also has a smart search option that allows you to find what you need in an intuitive, stress-free way. You also get the option of having a full screen editor. There are also 11 different editor themes for you to choose from. The editor will remember all of your edits, which means that you can undo and redo as many times as you need to do so.
| | |
| --- | --- |
| PROs | CONs |
| Supports copy and paste between WP theme editor and external editor. | Only supports PHP files. |
| Can download WordPress plugins and themes without having to FTP into the site. | It doesn't support phtml, html, css, and js files. |
| Auto indentation saves time. | Doesn't display directories that don't contain PHP files. |
This editor plugin functions as a text editor that you can use in websites. It works by taking features that you'd find in other programs and then puts them into WordPress. CKEditor for WordPress has been found to be compatible with every browser and OS that you can possibly be using.
This WordPress editor plugin works by taking the default WordPress editor and then replacing it with the plugin's own editor. It has its own upload manager as well as its own file manager to streamline integration on this platform. The integration plugins that it has are numerous, and a large amount of what's seen in the editor plugin can be customized.
| | |
| --- | --- |
| PROs | CONs |
| You can add background highlighting to text. | No menu button while browsing on smartphone. |
| Good for keeping raw HTML code. | Text occasionally does not show. |
| Brings visual editor back. | No longer has developer support. |
What sets this WordPress editor plugin apart is that it adds a whole new level of functionality with its unique content blocks that it adds to the equation. What makes these content blocks even better is that you can edit them just like you would with a page or a post, and all of the default editing abilities are added in. You can upload images onto the existing content blocks, making them look any way that you want them to.
The beautiful thing about this WordPress editor plugin is that you can make all manner of gorgeous widget without having to resort to code or anything like that. If you can drag and drop and edit a couple of parameters, you're ready to go. You can also easily add media into your little content block, and you can also add blockquotes, lists, headings, and other HTML elements while just using the visual editor to make all of your changes.
| | |
| --- | --- |
| PROs | CONs |
| Creates widget content well. | No backwards compatibility. |
| Has reusable widgets for multiple sidebars. | Doesn't work with WordPress 3.4.2. |
| Does everything in a post while turning it into a widget. | Reproduces every existing page on the site in the meta box. |
The especially important thing about this WordPress editor plugin was that it be fast out of the box. The creators achieved this by developing instant reaction. Things truly do react instantaneously with this WordPress editor plugin, so you can spend more time designing your site and less time worrying about the speed of uploads and the like. This makes this WordPress editor plugin the fastest of any other plugin, whether free or paid. Another benefit of this editor plugin is that you see what the page will look like right as you're making changes. This allows you to edit things on the fly and get things right the first time.
There's a designated template library built right into the program that you can use to use templates that were pre-made or even design your own that you can then use whenever and wherever you want. There's also proprietary mobile editing that you can use to make your mobile site look up to par every time.
| | |
| --- | --- |
| PROs | CONs |
| Very user friendly. | Lags with WordPress 10.2. |
| Support team provides overnight support. | Can be knocked down due to 500 errors. |
| You can drag and drop and integrate your theme styles if required. | Plugins have been known to create slowdown. |
This WordPress editor plugin works by allowing you to drag and drop your content around. Instead of having to fuss with often confusing HTML code, you can just as easily use Beaver Builder to move everything around in a simple and intuitive way. Beaver Builder has an extensive collection of help staff to help you every step of the way to make sure that your experience with their WordPress editor plugin is a good one.
Everything that's done in terms of coding when it comes to Beaver Builder is all done behind the scenes. This way, you can worry more about getting your page to look the way you want and less about how you're going to get it there. You shouldn't have to be an expert at coding just to get your website up and running. You can go ahead and utilize all of the WordPress widgets and shortcodes that you would like to use. It also works with posts, pages, and custom post types too.
| | |
| --- | --- |
| PROs | CONs |
| Doesn't clutter content with shortcodes. | Longer than a week response time from support staff. |
| Lots of third party extensions. | Won't use your theme's styles. |
| Excellent support staff goes above and beyond. | Critical errors shut down BB. |
This WordPress editor plugin has a simplified layout that is responsive and built to allow you to do anything you need to do. Don't know much code? That's not a problem when you've got Advanced WP Columns. This WordPress editor plugin will allow you to skip using short codes to do anything, and it instead offers a super simple user interface.
When it comes to this WordPress editor plugin, your blog's content can be arranged in multiple columns that are more pleasing to the eye than content formatted in the traditional way. Its responsive layout is fully multifunctional and adapted to the diverse and varied needs of your average WordPress user. Many users have had positive experiences with Advanced WP Columns as a WordPress editor plugin.
| | |
| --- | --- |
| PROs | CONs |
| Switches tables to DIV columns quite easily. | You need to know the URL of the image. |
| Allows you to archive with WP tools. | Images don't scale properly. |
| Allows you to layout pages in exactly the way you want them laid out. | Insert icon isn't visible in page setup area. |
This WordPress editor plugin comes preloaded with field types that are fully supported right out of the box. It has a fully intuitive admin support system that allows you to access help whenever you need it for whatever issue that you might be facing. You'll see that this WordPress editor plugin has full support for its help staff and that it isn't difficult to gain access to this help.
The admin UI on this WordPress editor plugin is setup in such a way that it allows you to easily create and manage custom fields no matter what those fields might be. As long as these placement rules are followed, there should be no problems.
| | |
| --- | --- |
| PROs | CONs |
| Does everything without unnecessary bloat. | Adding fields is hampered due to js errors. |
| Support staff will resolve your issue in the next update. | Textbox doesn't show on occasion. |
| Custom fields are developed to be intuitive for developers and clients. | CFS get() doesn't work sometimes. |
The name of the game with this WordPress editor plugin is functionality and compatibility. All of the things that are included with this plugin are fully compatible with earlier versions of WordPress. This way you don't have to fret about things not applying in the proper way. You can still use the editor that's standard and compatible with other versions of WordPress. You can use the featured image in the same way you normally would.
The way this WordPress editor plugin works is by creating blocks of content that can either show the title right on the page or use it instead to describe the contents of the content block. In order to add content to a widget, you simply have to drag it over to where it needs to be in the sidebar and then select the actual title of whatever it is you're trying to do.
| | |
| --- | --- |
| PROs | CONs |
| Rated extremely highly. | Widget install crashed one site. |
| Works well to add standard content that might need to be modified periodically. | Only showed a blank page for one user. |
| Allows you to edit widget information just like you would a post. | Needs possibility of linking entire block to a page. |
This WordPress editor plugin is built all around total customization. It allows you to edit all sorts of descriptions by using WordPress's rich text editor that's already built into the system. You can also use the uploader to upload images from your computer or the media library.
You can also edit term descriptions with the built in editor, so you'll have no problem at all getting your site exactly the way that you want it to be. It also supports fields for a user biography, so biographical information can be entered here in a streamlined and simple way.
| | |
| --- | --- |
| PROs | CONs |
| Rated extremely highly. | No paragraphs and line break. |
| Works well for WYSIWYG. | Has occasional slowdown. |
| Especially handy for a developer with developer-friendly tools. | Need to add code for content, plugin won't automatically produce it. |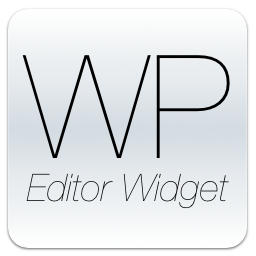 This WordPress editor plugin was created to be easy to use. This widget uses a rich text widget where the text can be added to the post and you can use the visual text editor to edit and change any of the content that you need to change.
This WordPress editor plugin serves a great variety of languages and modalities. It was created all the way from the ground up to be very simple to use and easy to format, and it does this quite well when you see this WordPress editor plugin in action.
| | |
| --- | --- |
| PROs | CONs |
| Makes adding video and screenshots easy. | Only allows one widget. |
| You can use html with a proper editor in the widget areas. | Doesn't have as much functionality as it says. |
| Makes it easier to edit widgets with rich text. | Has the occasional bit of slowdown. |
Conclusion
There is a great number of WordPress editor plugins out there in the world. Most of them have the sort of functionality that you would look for and expect in a plugin. Where they differ is in the little details, the tiny differences that most wouldn't notice but the pros would. It's details like these that are going to make the difference between an okay WordPress editor plugin and one that's excellent. It's the details that make the ultimate difference when it comes time to make your decision and make a purchase. We've presented the WordPress editor plugins, now you make the decision.
Actives
Reviews
Unique Features
Pricing
#1 Black Studio TinyMCE Widget
900,000+
⭐⭐⭐⭐⭐

Support for fullscreen editing.
Support for WPML.
Available in 20+ languages.

Free
#2 WP Editor
100,000+
⭐⭐⭐⭐

CodeMirror.
Line numbers.
Line wrapping.

Free
#3 Advanced Code Editor
100,000+
⭐⭐⭐⭐

Support for fullscreen editing.
11 editor themes.
Ajax save file.

Free – $1 per month
#4 CKEditor for WordPress
80,000+
⭐⭐⭐

Customizable skin.
Customizable toolbar buttons.
Configurable output formatting.

Free
#5 Widget Content Blocks
40,000+
⭐⭐⭐⭐

Translation ready.
Shortcodes in widgets.
Easily insert media in the widget.

Free
#6 Elementor Page Builder
70,000+
⭐⭐⭐⭐⭐

Add high quality headlines.
Customer testimonials.
Social icon placement.

Free – $199
#7 Beaver Builder – WordPress Page Builder
200,000+
⭐⭐⭐⭐

Content modules.
Mobile-friendly layouts.
Use shortcodes.

Free – $399
#8 Advanced WP Columns
40,000+
⭐⭐⭐⭐

Multiple columns.
Simple user interface.
Responsive layout.

Free
#9 Custom Field Suite
30,000+
⭐⭐⭐⭐⭐

Over 12 field types.
Manage custom fields.
Create custom fields.

Free
#10 Content Blocks (Custom Post Widget)
30,000+
⭐⭐⭐⭐⭐

Use WYSIWYG editor.
Featured image functionality.
Compatible with WPML.

Free
#11 Rich Text Tags
20,000+
⭐⭐⭐⭐⭐

Edit term descriptors.
Works with custom taxonomies.
Supports user biography fields.

Free
#12 WP Editor Widget
20,000+
⭐⭐⭐⭐

Rich text widget.
WP core function.
Uses WordPress visual editor.

Free